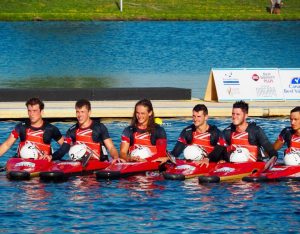 This year KKC had 4 members compete in the World Championships. Two playing for the U21 Men, Alex Lowthorpe and Edward Lart, and two playing for the Men, Nick Spencer and Ross Martin.
The U21 Men came a fantastic 1st place and received the Gold Worlds Medal. For Alex this was his 2nd Gold Worlds Medal, retaining the title from 2 years ago in Sicily. Edward was making his first appearance in a major competition for the U21's.  Both players played really well throughout the competition. Alex finished 4th on the goal scorers for the U21 Men.
The men's team finished in 7th, the same position as they finished in Sicily 2 years ago. An outstanding performance from both players, making the starting 5 a lot of the time and playing the main part of the men's defence. Ross was the top goal scorer for GB men.
A big well done to all involved and hope for many more Kingston players to progress through the ranks into the GB squads.
Games are available to watch on Youtube………